The challenge of developing a representative brand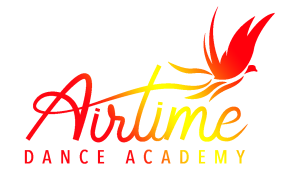 Airtime Dance Academy teaches a variety of movement styles such as dance, acrobatics and aerial skills which had to be immersed in my brand. The vision of free flowing movement, flying, and awesomeness had to almost jump out of the logo. I chose my friend, James Quinn-Hawtin, who is an established designer and qualified trainer in his field but lives in Queensland which is a 5hr flight from me. Apart from distance, another challenge I faced was that – even though he also teaches dance – James did not fully understand the concept of acrobatics and aerials silk.  Consequently there were a few changes to the initial submissions. We used Pinterest  in the briefing stage to gather images and put forward suggestions to get a feel of what the branding should look like even before pencil was put to paper. After several tweaks, I am now ecstatic about the results and give full credit to James for hanging in there til the end.
Utilising Facebook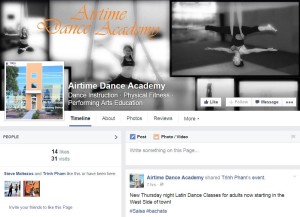 I actually started my training centre with several Tuesday night classes before I had a logo or website.  This is probably the opposite to what normal small business owners would do!  I figured this could be a good time to test out classes, to get customer feedback and improve before anything is set in stone. The fact that I have not had my logo or website ready when I started this has limited how I can advertise, so Facebook has been my main form of advertisement through posts on my timeline, inviting friends to events and creating a Facebook page. I use my Canon 40D DSLR to capture great photos as it captures 3 shots per second which is handy for moving subjects. Posting photos of real people doing fun and incredible things on Facebook has been my strategy to stand out and get noticed. Photos and videos validates the fact that people they know are having fun and doing interesting things that maybe they could try. Friends of key influential people would comment and ask about what they're doing and are asked to join in the fun next time. And so it goes on. This is a great way for people to try something new rather than cold calling or letter box drops!
Future plans
I've only just started Twitter, Instagram, LinkedIn so I still need to develop these social media groups to expand my reach in the future. My website is still in its infancy stage so newsletters, blogs and various content will be built to increase value within my website http://airtimedance.com.
I am currently using Weebly, a popular choice within small business circles, as it's easy to use and manage myself. The range of templates are great for a quick and easy start-up website and will be reviewed every year to ensure I am providing my customers with what they need.