For many allied health professionals and small business owners, writing a blog is a challenge. Not only does blogging take time but writing for the web is very different to any other medium. There also seems to be a genuine lack of reputable and informative information out there on how to structurally compose a blog. There are loads of resources on how to "start" a blog but none of these really hone in on the skill of writing quality posts. Understanding the structure of a blog post so that it informs, engages and educates your audience is the key to success, so let's take a closer look at this for a minute.  As always I will demonstrate with examples for allied health professionals, but the principles in this article can be applied to any industry.
Understand your audience
I know I bang on about this folks, but seriously it's the foundation of all good marketing. You must know who you are writing for. If it's for your patients and a wider general audience, adapt the language to a level that speaks to them about topics they are interested in. If you are directing your post toward your peers, for example, other allied health care professionals, up the ante and speak to them scientifically. Choose topics that are outside the scope of the general public but that resonate well with like-minded health professionals.
Pick a topic
Once you have established who you are writing for, you need to decide what you are going to write about. There is no shortage of topics you can write about;  the trick here is to find topics that are going to be of value to your audience. So ask yourself:  what are they interested in knowing? What are their concerns, interests and/or challenges? Can you write a piece that will solve a problem for them? Is there a common concern that keeps coming up in forums that you could solve?
At this stage of the writing process, you will probably have a vague idea of a title for your piece, but note that it might very well change as you complete the post. Don't box yourself in with a title while you work on your blog.  The title or headline needs to immediately generate interest and speak to your audience, and the catchy keywords generally emerge during the writing process.  It is perfectly acceptable to change this again later.
Be compelling
Write a compelling introduction that immediately captivates and leaves your readers wanting more. Keep your opening sentence short and punchy trying to create a 'hook' so that they keep reading. Use the word 'you' so that your reader thinks you have written the blog for them and with their concerns in mind. Let your readers know what the blog post is about and why it is important, perhaps touching on pain points you know your readers have. Ask yourself what would make you want to read further into the post.  If the reader can't relate they simply won't go past your introduction.
Structure your content
The content of your blog must be organised. Start by writing down all the points you want to cover, this will form your outline. Organise them into whatever format works best for your content, whether it be as lists, point form or tips. Once you have the outline done, the structure and order of your blog will become clear.
Add flesh to the bones
Once you have the bones of your blog post, it's time to write! You can now flesh out each point so that what you are presenting is engaging and interesting, and elaborates on your points in more detail. As you are writing an original post, write about everything you know, add your twist or interpretation and take a stance. Blog posts that are opinionated or present a polarised view create more engagement. If you intend using other people's work reference correctly and provide links out so that if your readers are interested they can read more on the authors' sites. Make it easy for your audience to read, follow and digest the information you are presenting. Stay on point and don't waffle or lose sight of the journey you are taking them on.
How long should your blog post be?
There is much debate over this.  The digital world we live in is fast paced and saturated with information. Our attention spans have changed; we want to quickly scan and digest information and move on. According to Neil Patel, his experience and data point to
"long-form (between 1,000 & 1,500 word) content performing better in social sharing, search indexing, organic traffic, and conversions."
With this in mind, don't keep endlessly writing for the sake of bumping up your word count.
Spell check, format and test readability
Due to the sheer volume of information published on the web, it's not uncommon to come across a post that has not been edited and contains spelling mistakes, grammatical errors, and poor formatting. It's one of my pet hates and it's easy enough to avoid, so if you have gone to the trouble of writing a blog post, make sure you proof-read it, check it for errors and fix the formatting! There are loads of free tools out there that will make this job easier, so use them! Personally, I use Grammarly to edit my posts.  It's a comprehensive, automated grammar editing tool that checks for 250+ types of common and advanced English grammar rules.  Super easy to use and picks up everything as you are writing!
TIP:  There are a few things you need to keep in mind while fine-tuning your content:
You must include an image for your post and, like the title and introduction of your post, it must grab the reader's attention straight away. There are a number of programs at your disposal that make creating or editing images easy, Canva, PicMonkey, and Pixlr to name a few.
When sharing your post across your social media channels, you must consider the various image sizes that each platform uses. They vary and if you don't resize accordingly, your image will not be displayed correctly. To ensure you are always up-to-date with social media image sizes click here.
Ensure your blog is easy to read. No-one likes to read long and large segments of text – go back to your initial outline and break your text into easily digestible sections and sub-sections. Utilise headings and subheadings to introduce your readers to what's being discussed in the following text.
You can also run your copy through an online readability test to make sure the tone is correct for your intended audience.
Remember, one of the keys to a blog's success is if it's easily scannable. [/ut_alert]
Tell users what you want them to do next
Blogs are an essential piece of your content marketing puzzle. By consistently producing quality posts that your readers find useful and informative you stand to position yourself as a thought leader in your profession. But have you thought about what you want your readers to do once they have read your blog? Readers like to be directed somewhere, so provide them with a clear call to action at the conclusion of your post. It could be as simple as getting them to subscribe to your blog so that you can continue the conversation or download a specific treatment protocol or exercise program (which will also allow you to capture their email address).  To illustrate with an example, note how Squaggle has Call to Actions scattered in the blog sidebar, and also throughout the content: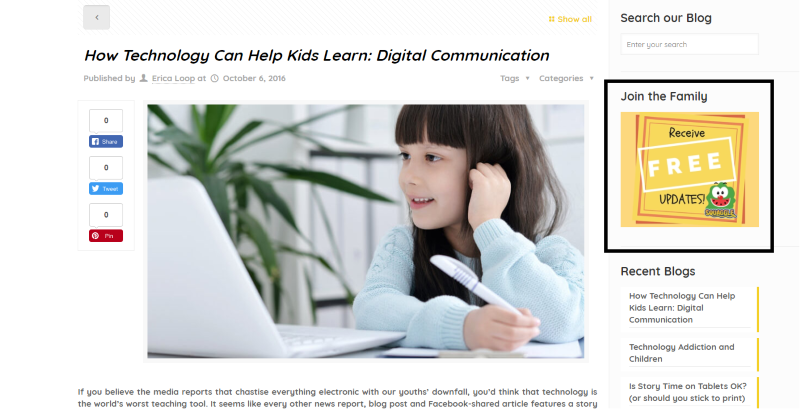 Make sure Search Engines can find your post
Once you've written your post, you should go back over it and optimise it for search. All this means is that you should make sure you have completed all the on-page SEO you are able to.
Write a great meta description (i.e the little snippet that is listed below your blog title in search).  It gives users the first glimpse of what your post is about and a well-written meta description will result in a higher click-through rate.
Ensure your title contains one or more of the keywords you wish to be optimised for. Don't make your title unreadable by stacking it with keywords, but if the title permits, re-work/reorder it so that your keywords are prominent (and at the beginning) whilst still maintaining the integrity of your title.
Utilise internal links as much as possible, Neil Patel recommends using between 3 and 10 in each blog post to make it worthwhile. For instance, link your current blog to other relevant posts on your site. Do this by using normal words (not keywords) that link through to other posts. The deeper you can direct users into your site the better. This tells Google the various posts are from the same site which helps bolster authority. It also serves your audience well:  if they are reading one blog post on a certain topic, they may very well enjoy reading other related posts. Internal links help keep readers on your site and engaging with your content.
A final note on optimisation – make sure your post is optimised for mobile. Google's change in algorithm back in 2015 made it more difficult for sites not optimised to be found on the top pages in search. As smartphone and tablets are rapidly becoming the devices of choice for users when accessing the web, if your site is not optimised for mobile, get it done!
Refine your title
The final task in refining your blog post is to go back and revise your title. You may have to change the title to make it more relevant to how you have actually written your post. It must reflect what you have written and accurately describe what readers can expect if they continue reading. Don't make it too long, Google likes titles to be under 65 characters long.
Conclusion
Creating blog posts that are informative and add real value to your target audience takes time and practice. Remember that you are writing for viewing on screens, not on paper.  Keep those titles catchy, the content easy to read and reference your sources properly.
Hopefully, you are able to take some of these steps and implement them when writing blogs for your allied health practice.  Let me know if you have any other tips for fellow readers!
References