Yesterday we had the good pleasure of attending yet another event presented by our mentors from the Entourage:  'The 8 Steps to Entrepreneurial and Sales Mastery'.  It was hosted at the Melbourne Convention Centre with speakers Peter Lackovic, Anette Lockovic and Lorraine Murphy from the Remarkables Group.  And my-oh-my:   did we learn lots!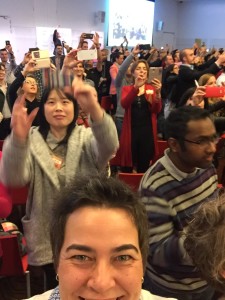 Peter and Annette  guided us through the 8 steps to follow when building a dynamic business, giving us insights into
Lean start-up strategies
Millionaire mindset
Leveraging marketing
Systemising sales
Becoming number one online
Management and Leadership
Financial Scoreboard and
Venture Capital.
Peter had an on stage interview with Lorraine Murphy, giving the audience insights into the timing of setting up your own business; lean marketing strategies; early challenges and how to overcome them.  All very inspiring stuff that had us taking notes, recording audio and absorbing as much as our brains could take in!
It was also a great networking opportunity for our team to mingle with other small business owners and entrepreneurs and to catch up with other members in the Saleable and Scalable Program.  We are super excited about everything we learned and look forward to implementing the strategies into our our processes as well as bringing it home to our valued clients.  We hope to see more of you there next year!